 Regenexx® Stem Cell & Platelet Procedures for Knee Arthritis, Meniscus Tears, Tendon & Ligament Tears, Overuse Injuries and Other Conditions.
Regenexx® Stem Cell & Platelet Rich Plasma Procedures are the world's most advanced regenerative injection treatments for treating knee pain due to arthritis, meniscus tears, traumatic ligament injuries, overuse conditions and other degenerative conditions.
If you have encountered an injury to the knee meniscus, cartilage, ACL or MCL ligaments, or have chronic knee pain due to a past injury or arthritis, you may be a good candidate for knee stem cell therapy or platelet rich plasma procedures. Traditional options for patients suffering from these issues include arthroscopic knee surgery to repair ligament tears, or total knee joint replacement. With both surgeries, months of rehab are required to regain strength and mobility, and the patient must be aware of and prepared for associated risks.
Patient Outcome Data & Commonly Treated Knee Conditions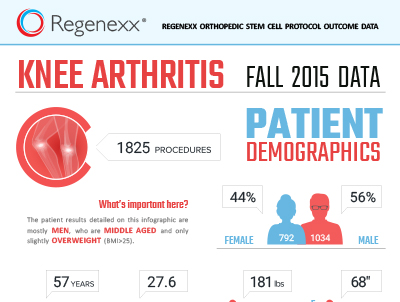 Knee Patient Outcome Data
This Regenexx bone marrow derived stem cell treatment outcome data analysis is part of the Regenexx data download of patients who were tracked in the Regenexx advanced patient registry.
Knee Meniscus Procedure Outcome Data
This Regenexx bone marrow derived stem cell treatment outcome data analysis is part of the Regenexx data download of patients who were tracked in the Regenexx advanced patient registry following treatment for Meniscus Tears.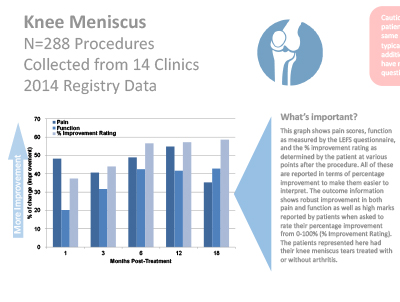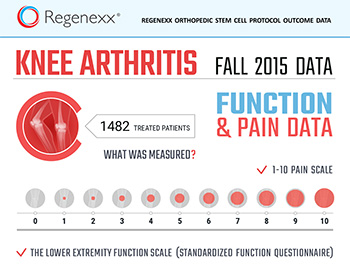 Knee Function Improvement Data
This data utilizes LEFS (Lower Extremity Functional Scale) data from our knee arthritis patients treated with stem cell injections. Functional questionnaires ask the patients questions such as how well they can walk, run, climb stairs, etc. The improvements following the Regenexx Stem Cell Procedure are highly statistically significant.
Stem Cell Procedure Safety
Regenexx has published more data on stem cell safety in peer reviewed medical research for orthopedic applications than any other group world-wide. This is a report of 1,591 patients and 1,949 procedures treated with the Regenexx Stem Cell Procedure. Based on our analysis of this treatment registry data, the Regenexx Stem Cell Procedure is about as safe as any typical injection procedure, which is consistent with what we see every day in the clinic.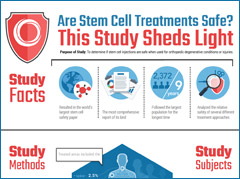 Commonly Treated Knee Conditions
This is not a complete list, so please contact us or complete the Regenexx Candidate Form if you have questions about whether you or your condition can be treated with these non-surgical procedures.
Patellofemoral Syndrome/Chondomalacia
ACL, MCL, PCL or LCL sprain or tear
Biceps Femoris Insertional Tendinopathy
How Regenexx Procedures Work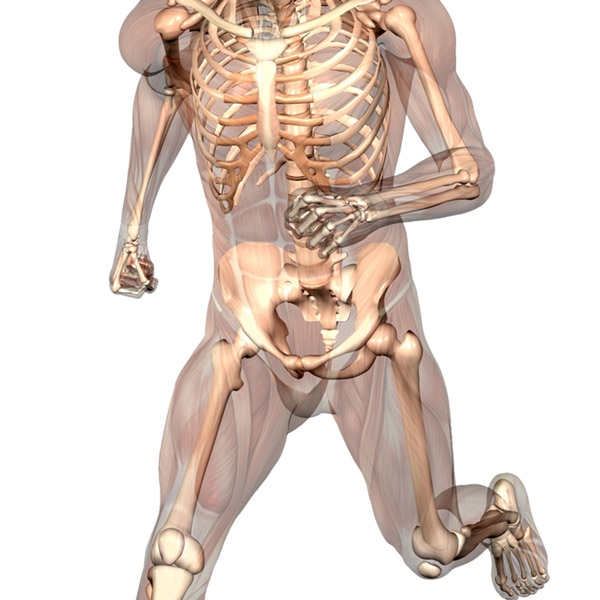 Stem Cell Treatments
Same Day Stem Cell Protocol (USA & International) & Cultured Stem Cell Procedure (Cayman Islands Only)
Adult stem cells are cells from your own body that can renew themselves and turn into other cells (differentiate). They live inside all of us in various tissues, poised to leap into action to repair damage as it occurs. As we age or have big injuries, we may not be able to recruit enough of these cells to the site to fully repair the area. Regenexx Stem Cell Procedures help overcome this problem by extracting stem cells from an area of high volume, then concentrating the cells and reinjecting them into the damaged area to help the body heal naturally.
Our Patented Stem Cell Procedures can be used for a wide range of conditions and are the tool of choice for injuries, arthritis and other conditions that may be more significant than what may be treated with our Platelet Rich Plasma or Platelet Lysate Procedures.
Blood Platelet Treatments
Super Concentrated Platelet Rich Plasma & Advanced Platelet Lysate Procedures (USA & International)
Platelet Rich Plasma (PRP) and Platelet Lysate Injection Treatments contain healing growth components from your own blood that increase your body's natural ability to repair itself. The use of PRP to repair joint, tendon, ligament, and muscle injuries is becoming well known, thanks to exposure from professional athletes. Platelet injection treatments are effective because they have a stimulating effect on the stem cells within the targeted area, making those stem cells work harder to heal damaged tissues.
Our Advanced Platelet Procedures are more pure and concentrated than those created by the automated machines used at most regenerative medicine clinics. Platelet procedures are commonly used for soft tissue injuries, mild arthritis and spine conditions.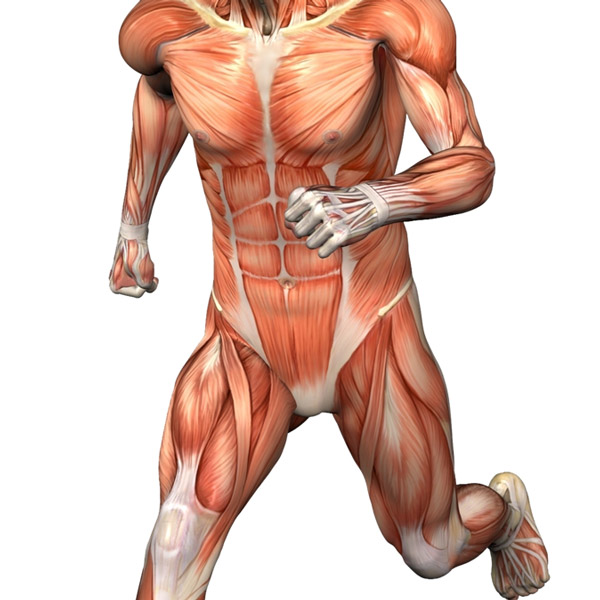 Want to Make a Real Change in Your Life?
So if you were waiting for the perfect time to seize this opportunity, the time is now. Send for your free issue today.
Your Alternative to Knee Surgery
Surgical options for those dealing with painful knee issues range from arthroscopic knee surgery to total knee joint replacement. Recent research has shown that some of the most popular arthroscopic surgeries have no benefit at all (including meniscus surgery). Knee replacement is extremely traumatic and carries new-found risks of toxic wear particles entering the blood stream. Surgical risks aside, all surgeries minimally require months of painful rehab to regain strength and mobility. Most surgeries also accelerate the cascade of degeneration that leads to osteoarthritis.
Surgery is sometimes the obvious solution for severe cases and we acknowledge that stem cells cannot treat everything. However, we have seen exciting results on difficult cases, such as complete muscle and ligament tears, and we have helped thousands of patients with severe arthritis avoid knee replacement and continue to do the things they love with little or no pain. Most Regenexx patients experience little or no downtime from their procedure and are encouraged to return to activity as they begin to feel better.
Osteoarthritis
Knee replacement surgery comes with many serious risks and complications, but is often considered to be a straightforward and accepted approach to treatment for those suffering from significant arthritis or injury in this joint. Before you consider knee replacement, learn what Regenexx can do for you and download our free report.
Meniscus Tears
Around our Regenexx® Network, meniscus tears are one of the most common injuries we treat. The last option anyone should consider for treating a meniscus injury is the surgical removal of all or some of this important structure. Click below to learn why Regenexx is likely a better choice than meniscus surgery.
ACL Tears
Knee ACL tears are a very common injury. The rush to surgery has long been due to the traditional thinking that an ACL will not heal. Our experience treating ACL tears with the Regenexx patented stem cell treatment has shown that it may be a better option for those who have experienced a partial or complete non-retracted ACL tear.